Hours and Scheduling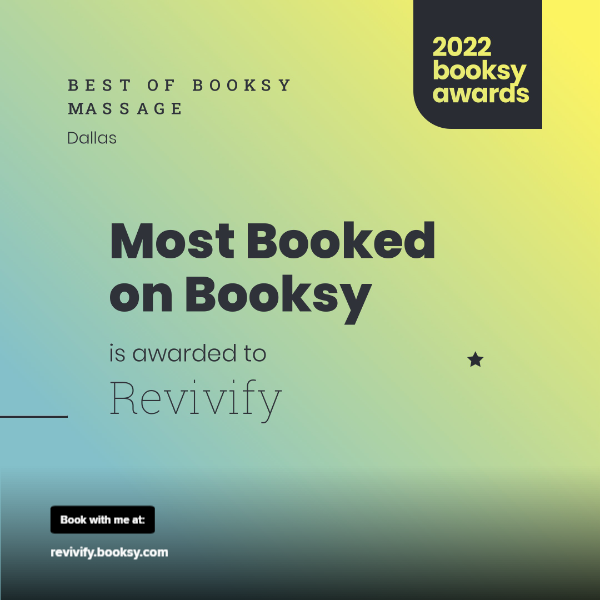 CLICK HERE TO SCHEDULE YOUR APPOINTMENT
Hours:
MONDAY 9:00 AM - 8:00 PM
TUESDAY 9:00 AM- 5:00 PM
WEDNESDAY 9:00 AM - 4:00PM
THURSDAY- CLOSED
FRIDAY- 9:00 AM - 7:00 PM
SATURDAY 9:00 AM - 7:00 PM
SUNDAY -CLOSED
Rules of Engagement:
Thank you for stopping by and possibly choosing Revivify Massage Therapy to assist you in your health and wellness needs. With that being said, please note the following rules that Revivify ask you to comply to/with:
1) Revivify Massage Therapy is a 1 person operation and has a system in place that everyone has to adhere to. There is a First Come/ First
Served Rule.
2) Online scheduling is the quickest and most efficient way to schedule, reschedule or cancel your appointment. With that being said, you can click on any "SCHEDULE NOW" link throughout this website to schedule your appointment as you will be directed to the booking site. You will also want to bookmark the link below for faster access. https://booksy.info/Revivify
Make sure that you enter your email and contact number in correctly as you will receive a confirmation email as soon as you submit appointment and a reminder email and text up to 48 hours prior to your scheduled appointment.
3) Revivify books up quickly and far in advance, so what you see on the schedule is what is available. Reschedules and Cancellations happen often, so check back on the scheduling site to see if anything has opened up that may be closer than your scheduled appointment. I am not always able to contact or catch when the openings occur as many clients find Revivify through Google searches, Yelp searches, word of mouth, Groupon, and referrals.
4) Bypassing the voice message that directs you to the website is futile the majority of the time as I am in session and may not be able to get to your phone calls right away.
5) It is very rare that you may obtain same day or next day appointments.
6) Many people call to say that they are in severe pain or they are in dire need of a massage in an attempt to "skip the line" and avoid the wait.
In these "severe" cases, the only days that are available may be the Scheduled Days Off or slots outside of Regular Operating Hours. In these
cases, the Regular Price of Services will be active + an additional $35. Any deals, discounts, discount cards that you may have will not apply to
sessions taking place outside of Business Hours.
7) If you buy sessions in bulk, please do not wait until close to your expiration dates to try to utilize your sessions, The expiration dates are generous and enough time allotted to use them has been given. Extreme cases of emergencies will supercede the above and will be discussed and agreed upon by both
8) First time clients, please arrive no more than 10 minutes ahead of your scheduled appointment as there is a consultation form that will need to
be filled out.
9) If you plan to be a regular client of Revivify, schedule future appointments as well. The online schedule allows you to do that. Being proactive will save you the heartache of missing out on regular massages for your health and wellness.
GROUPON PURCHASERS
See above rules as well as the following:
1) When you schedule an appointment, you will receive a confirmation email right away. Please note your scheduled date and time and also place it in on your own personal calendar. Approximately 48 hours before your scheduled appointment, you will receive a reminder email and a reminder text message. You can add yourself to the waitlist by clicking on any date. There you will be prompted to add yourself to the waitlist. If someone cancels or reschedules, you will be notified via email and text message and will have up to 2 hours to claim that slot.
2) Please note the 60 minute or the 2 60 minute options. They can not be split up or combined and the GROUPON is for FIRST TIME CLIENTS ONLY. The 2 60 minute option is for one individual and can not be used for 2 individuals.
3) As long as your appointment is on the books and SCHEDULED before the expiration date, no mater if the massage takes place after the expiration date, the GROUPON will be honored. If you decide to schedule your appointment AFTER the expiration date, the GROUPON will be applied as a CREDIT towards the regular price. The longer you wait to schedule, the further your appointment may be.
4) No calls/ No shows will cause you to be blocked and your GROUPON to be redeemed.
5) If you do not want to wait until your scheduled appointment or if availability is too far out, you can contact GROUPON for a REFUND.
6) Calling incessantly without going through the aforementioned steps above will have you labeled as" high maintenance" and you will be instructed to contact GROUPON for a refund and I will notify them as well to refer you to another Massage Therapist in the Metroplex.
Thank you for your attention and adherence to these GUIDELINES!